DomoStep 160A is the innovative solution, specifically designed to overcome architectural barriers up to 1.6 meters in complete safety.
It is designed for people with reduced mobility and using a wheelchair, with or without an accompanying person. Safety, versatility and reliability, diminished overall dimensions and quick installation are DomoStep 160A's strengths.
The platform, in compliance with DM 2006-42-CE, does not need any masonry work, it is battery-powered and does not require any fixed wiring, since a standard socket is enough.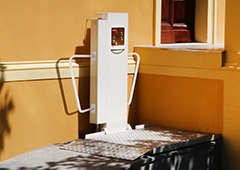 Features
CONSUMPTION: Stand-by power consumption 6W and regular use power consumption only 46W.
ANTI BLACK OUT SAFETY SYSTEM: The platform has an emergency device that (in case of power failure) allows to reach automatically the first floor.
SAFETY: Emergency STOP, lower sensitive surface (without bellows) and inside battery for powerless operation.
NO PIT OR MASONRY WORKS REQUIRED: Designed to be placed on finished floors without any need for pits or masonry works.
REDUCED INSTALLATION TIME: The pre-assembled mechanical kit and the pre-wired electrical components allow a fast installation, reducing the end-customer hassle.
ONBOARD CONTROL PANEL AND MOTOR: No need for external cabinets or machine room because motor and control panel are positioned behind the platform wall.
---
GET IN TOUCH
Schedule a Free Consultation