Versatile solution
EasyPlat is the lifting platform solution for all environments: a house, a block of flats or any public buildings such as offices, shops or restaurants.
It guarantees full comfort and has been designed to overcome a small travel like a few steps or even an entire floor in complete safety up to 3 metres travel..
Simple, thanks to the absence of building works
EasyPlat simply stands on the floor. It has an integrated ramp for access and egress and it does not require a pit. Load-bearing walls are not required. EasyPlat requires minimal space, it does not require a machine room or any external cabinet.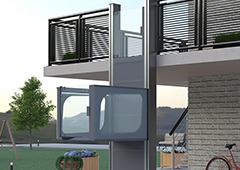 Stylish for the home – Perfect for a Block of flats – Functional in any public environment
Maximum level of safety
Take advantage of most of available space
Extremely silent
Reduced purchase and maintenance costs
Quick assembly time: maximum 1 day
Italian style, with sophisticated design, LED strips and double controls panels
Absolute absence of masonry works (no pit needed)
Minimal aesthetic impact
Can be installed both outdoor and indoor
Made in Italy: built in Parma with care and passion
---
GET IN TOUCH
Schedule a Free Consultation