The 2000 outdoor model is manufactured from durable and waterproofed materials allowing it to withstand external conditions and be installed on most outdoor curved staircases. Whether it's providing access to your home or a favorite outdoor living area, such as a deck, garden or pool, the 2000 outdoor stairlift makes the great outdoors accessible again.
Similar to the indoor 2000, the outdoor model can navigate the tightest of bends while still providing you a safe and reliable ride. The unit includes an outdoor cover to protect the unit from the outdoor elements while not in use and also includes a key switch to ensure that only you and your family have access to the lift.
Just like all of our curved chairlifts, Handicare guarantees a custom built solution that meets all of your personal needs.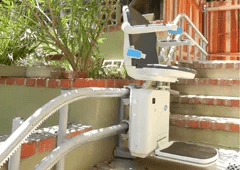 ---
GET IN TOUCH
Schedule a Free Consultation